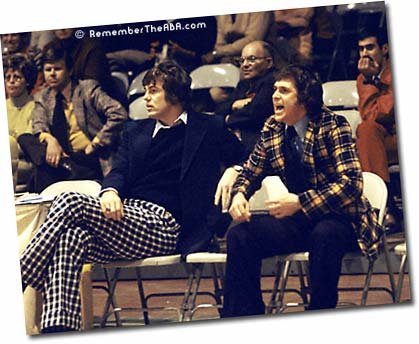 Courtesy of Remembertheaba.com -Larry Brown in his first pro coaching gig in Charlotte with the ABA's Carolina Cougars.
So by now most of you've heard that the Charlotte Bobcats (What do you mean? Yes we do have an NBA Franchise) hired Larry Brown as new head coach. Have to confess, I've kinda got mixed feelings about this one. I think LB's resume will command respect from the Bobkitties, but will his personality negate that? Remember how he and Iverson went back and forth in front of the media in Philly?
Hopefully after winning an NBA 'chip with the Pistons and after that disasterous year with the Knicks, LB will take a little more subdued approach in the Queen City. I know one thing, LB's hire can't do anything but help the Bobcats' image in Charlotte. Reading the boards online after every Bobcat article since the team's inception, I can't recall a time when race did not come up in the conversation. Not to call LB an affirmative action hire, but alot of people feel like Bob Johnson is a racist and only hires black people. (Funny thing, I've never heard anybody critique how many African-Americans are in Jerry Richardson's office, but that's another story.)
I just hope Larry stays around long enough to get the Bobcats headed in the right direction. Something tells me that Brown is biting at his chomp to apply for that Dallas job.